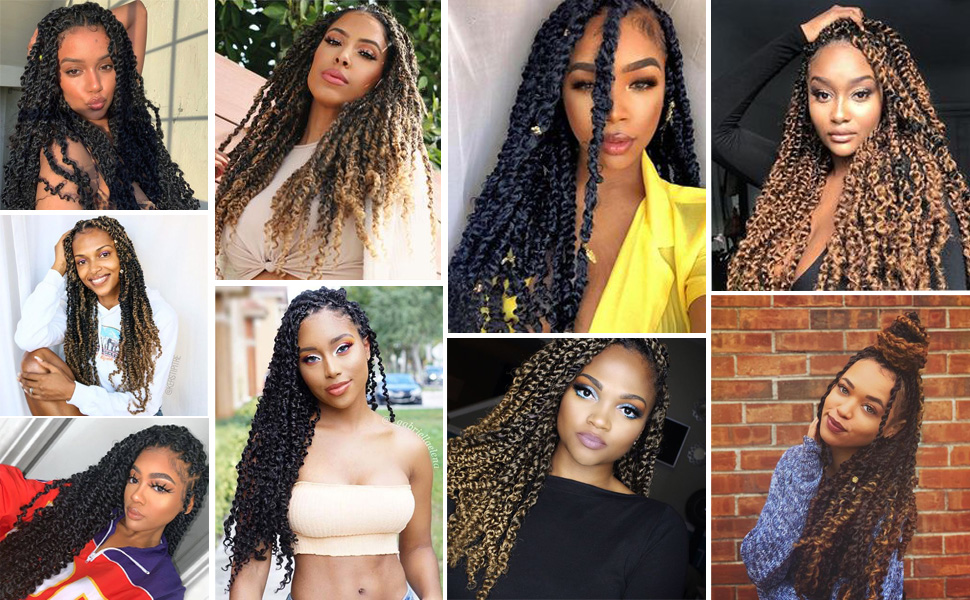 Since January of 2018 that the talented Miami-based hairstylist, Kaitlyn Rogers by name launched the passion twist hairline on her Instagram page @BohoBabe, where she gave a quick introduction to the hair and how best to use it. At launch, a lot of people quickly fell in love with this hairstyle and it caught up right away.
What Are Passion Twists?
The passion twist style was invented by Kaitlyn Rogers for people long for a natural hairstyle that they can easily maintain and will make them look beautiful and glamorous. According to Kaitlyn Rogers, the style came to her while she was thinking and meditating on how to create a lovely hairstyle for her customers. When she got the inspiration, she quickly went to a hair store and purchased what she'll need and she tried the style on herself. From the first try, the style was a success, and she debuted it to the world in 2018, January, and the hairstyle went on to become highly popular within a very short time.
https://www.instagram.com/p/B71iJlSB7X_/?utm_source=ig_web_copy_link
The passion twist hairstyle gets its difference and uniqueness from its texture. Passion twists are natural, fun textured and do not require much by the way of maintenance in comparison to other hairstyles. Passion twists can be styled easily and the style lasts longer than a lot of other styles. In fact, the older a passion twist hairstyle is, the better it looks. This is why a lot of people will choose the hairstyle over and over again this year 2023.
How to install passion twists?
The process of installing passion twists is not different from that of other two-strands twists. To install passion twists, you:
Wash, moisturize and dry your hair. Do not let your hair become completely straight and dried, however, to give you something to easily grab on while installing.
Section out and divide your hair into four parts or as you can manage. Sectioning your hair will make it easy to work with smaller segments to make you easily get the look that you desire. Passion twists can be made thin, chunky, or even mixed, as you desire, so can you make your passion twists.
Each of the segments you have will then be divided into two halves so you can apply edge control gel on the tip of your fingers and wrap the braiding hair at your scalp. You should have arranged the braiding hair into a criss-cross or X partition, you then take this braiding hair and twist it in with the halves of your sectioned hair.
Hold the right and the left halves and twist them around the braiding hair. Once the hair becomes tight at the root, you can then start twisting and turning the hair all the way to the end.
Repeat these steps for the other parts of the hair and all is done. Your passion twist is ready for you to rock and look beautiful in this year 2023.
With the help of a mirror, you can keep track of what you are doing. If you, however, feel you'd prefer your twists to be installed by a hairstylist, do not hesitate to visit your stylist and get your hair fixed.
How long do passion twists last?
Once you get your passion twists completely installed, you can use a holding mousse to make them last longer. Kaitlyn Rogers, the creator of the style recommends the Bronner Brothers Foam Moisturizing Wrapping Lotion for the finishing of the passion twists. According to her, finishing the hair with the lotion adds moisture, bounce, body, and more shine to the twists.
Kaitlyn Rogers also said the Passion twists, after installation, can last as long as two months or more with a little touch-up. As it is with a lot of other twist hairstyles, the smaller passion twists last longer and looks fuller than the longer twists. So, to make sure your hair looks best and lasts longer, make sure they don't get installed in a length that's too long. To protect your hair, however, you should make sure your passion twists hairstyle does not stay on your head beyond 3 months or 12 weeks at most.
According to the Passion twists creator, Kaitlyn Rogers, passions twists are water-friendly and you don't have to worry too much about getting caught in the rain or going for a swim, and you can always wash your hair if you need to. You should, however, be careful so that your twists don't start getting loose.
Maintenance of Passion twists
This 2023, if you are thinking of rocking the passion twists hairstyle but you are skeptical about the maintenance of the style, the good news is that regardless of the weather, your passion twists are a great protection for your hair and they don't need much by the way of maintenance, because they are tucked away in the faux tresses.
All you need to do is to stay hydrated to ensure that your hair breakage is minimized, keep your scalp clean, and have a sleep regimen that keeps your passion twists in good condition.
Passion twists have been a trend in the hair industry since launch in January and remain a favorite up to this moment. 2023 will not be different as the hair promises to keep giving the best value to people. The ease of installation, longevity, low cost of maintenance, silkiness, fun and other characteristics of the passion twists style makes it a sure trend in the year 2023, and you shouldn't be left out of the trend. This year 2023, get into your most beautiful self with the passion twists hairstyle.