As an Amazon Associate I earn from qualifying purchases.
Face masks and sanitizers in the present period are considered as modern essentials. Face masks have now been redeveloped as one of the most fashionable commodities. There is a significant rise in the demand for fashionable face masks in the past few months. The demand has been raised vigorously not just to prevent direct contact with contaminated diseases present in the external environment, but to also make a style statement while wearing it.
It's still not clear whether there will be Halloween parties this year or not. However, you must be prepared for the last-minute announcement. If you have to go out, make sure you are looking stylish as well as keeping yourself safe from Corona Virus. We have prepared a list of 10 animal print face masks to protect you while you're going out this Halloween.
7 Cool Face Masks for Halloween
LED Light Mask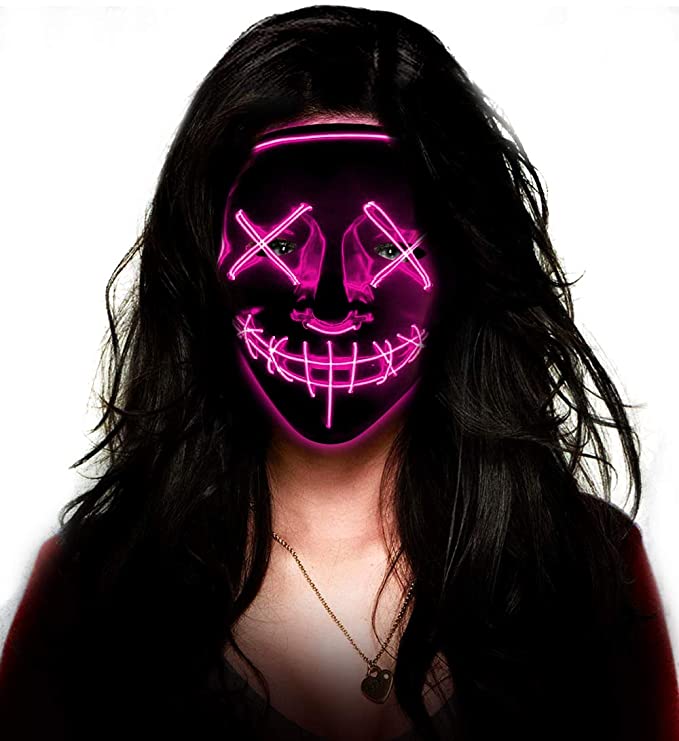 This is one of the most innovative and trending masks of 2023. A perfect choice for a Halloween Party. Guaranteed to grab everyone's attention. The mask is made up of durable material and has no adverse effects on your body. Moreover, the company claims that the service life of this mask is 10,000 hours. So, it's durable and not meant for just one-time use. Apart from Halloween, you can also use it on multiple other occasions like Rave parties, Costume parties, festivals, carnivals, etc. The LED lights are powered by 2 AA batteries.
Washable Face Mask with Adjustable Earloops & Nose Wire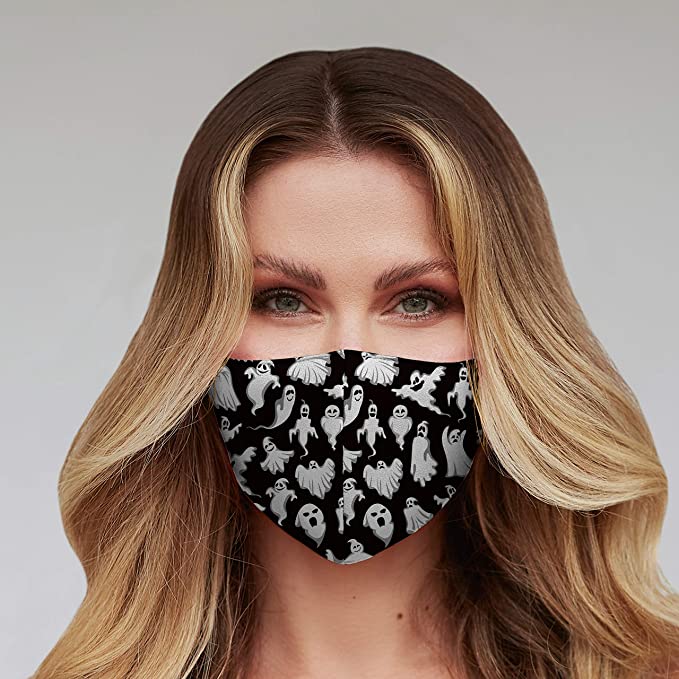 You can wear this mask in Halloween party as well as for regular daily use. It is washable and the color doesn't fade away after washing. It also has a filter pocket that can accommodate a 2.5 PM filter if you want to. The outer layer is made up of 95% Polyester and 5% Spandex while the inner part is made up of 100% cotton. The mask is really comfortable to wear for a long duration.
Cameleon Cover Fashion Cheetah Face Mask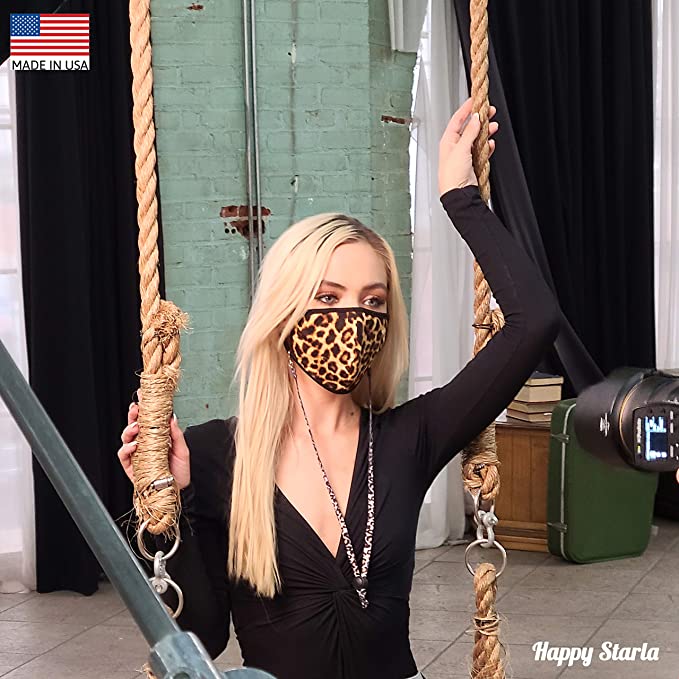 Design: the product is double layered and double-sided. It also consists of 100% cotton fabric from inside. The face mask is reusable, washable, breathable, and very comfortable to wear. It is a high-quality luxury product with a cheetah print.
Mask with Wolf face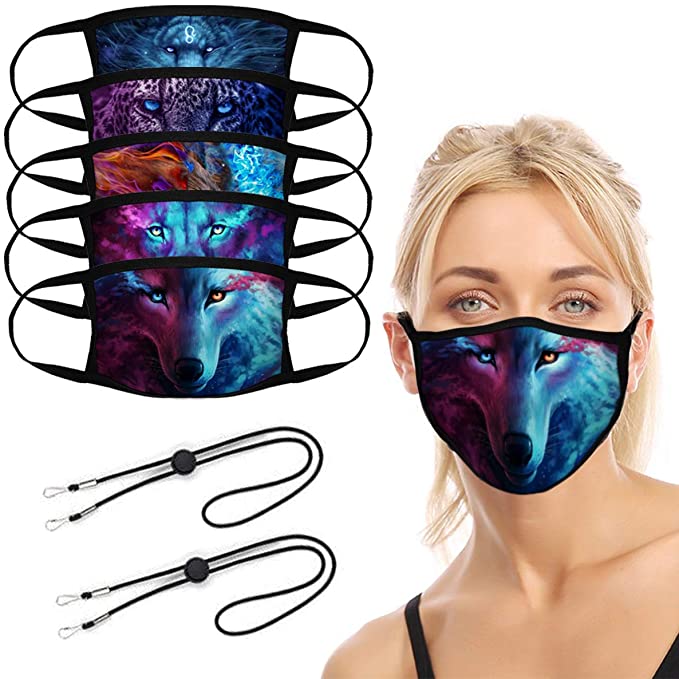 Do you like wolves? If yes, then this mark is made just for you. That wolf face in neon colors looks so nice! The mask is made up of high-quality plastic polyester and can be washed in a washing machine.
Fstrend Boho Leopard Mask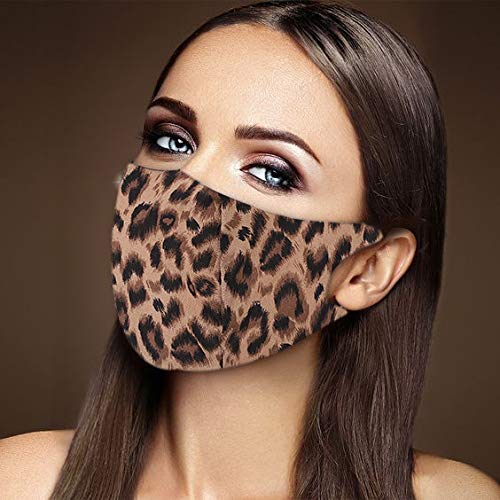 The particular product can be used for multi-purpose. The leopard face mask could be adjustable either as a mask or as a necklace. The masquerade mask is made up of polyester, cotton, and sturdy.
Weddingstar Washable Cloth Face Mask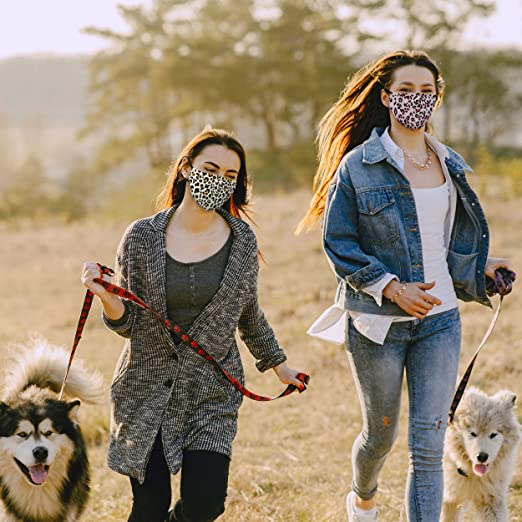 The face mask has a fabric face cover along with a dust filter pocket. The mask has leopard print. It has five layers of safety material against pollutants and allergens. The product also possesses flexible ear straps for enhancing the comfort level. The mask has an adjustable wire nose in order to have a perfect fit. It also avoids fogging while it is worn with spectacles.
Facial Protection Cover with Pumpkin Halloween Pattern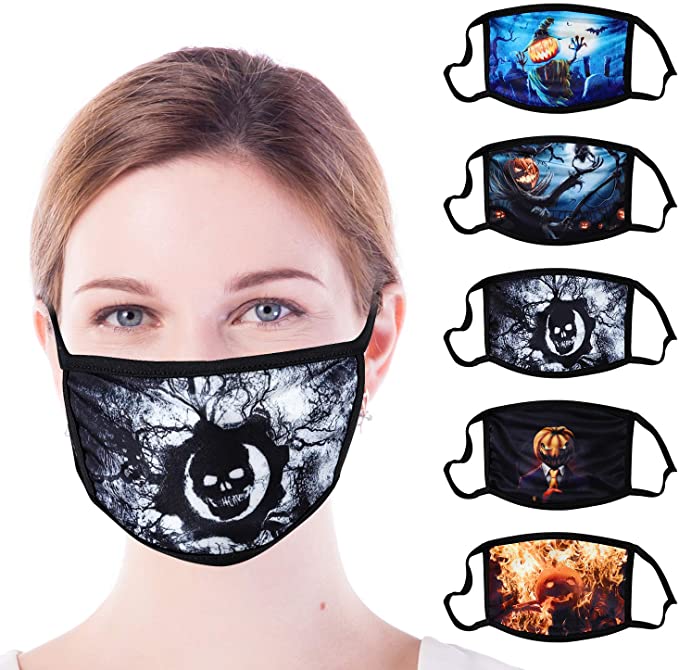 This one is a set of 5 pieces, each with a different Halloween pattern. 4 of these patterns are variations of the Halloween Pumpkin. It's very comfortable even for a long duration use. These masks are made up of cotton. An interesting fact about these masks is that some nurses were also noticed wearing these masks. I can't imagine how the patients would have reacted!
Conclusion
Among all the popular brands of face masks, the most cost-effective product is identified as an MTENG mask. On the other hand, Uaussi's face mask could be suggested for premium customers. All the face cover masks which are identified in this article are useful and the customer could choose among these as per their respective preference.