When it comes to health, everything is important. It is always said that a person's health is their most valuable asset. This asset must be secured with the help of dieting and ample exercise. Sometimes specific health conditions and lifestyles may cause an imbalance in the total wellbeing of a person. It may cause them to accumulate excessive fat and become overweight. There are many diet plans out there, but what works for you may not work for another person. It is important to know what you require from a diet plan to know your eating habits and weaknesses when you come down to hold a regime. Creating lifestyle changes is never an easy task. It requires time, energy, and above all enthusiasm. It is important to have a good look at a diet before starting to use it. Taking advice from a health nutritionist or a physician could always help you make the best choice for getting desirable results.
Noom diet; A modern approach
Noom diet is a personalized diet plan through a mobile app offered by Noom. It is meant for maintaining a fit and healthy body or becoming fit by losing weight. It helps a person reach their weight loss goals by recording their data. A person's required to enter their personal; information and details of every meal. This includes the weight of their food and the category of nutriment they have consumed. It helps the app to process their data and create a more precise diet plan suitable for each specific individual.
This app also offers access to a health coach. They can look into the recorded datasheet and provide perfect advice while you are on your weight loss journey. This app records meals and counts calories. It also offers an option for recording exercise habits. Base on the total sum of this information, it creates a calorie limit of minimum and maximum. To have success with the diet, you are required to keep within these limits.
You are not alone
Studies have proved that changing any kind of habit that may be difficult for an individual is easier with the help of a support group. The journey of weight loss is also recorded on their social platform. Others can see your progress while you can get to see them. This can help you feel that you are not alone on your journey. It is a heart-warming element when you feel the cold feet to go further ahead. It could be also being encouraging you to see you have progressed positively in contrast with the rest. It helps you to appreciate the efforts you have made by reminding you that you have done a good job and that it has not been easy.
Traffic light system
This diet is based on food colors in accordance with the portion that is eaten. This system is unique and interesting. Especially for the people who have tried many diets, this could be an encouragement to their progress.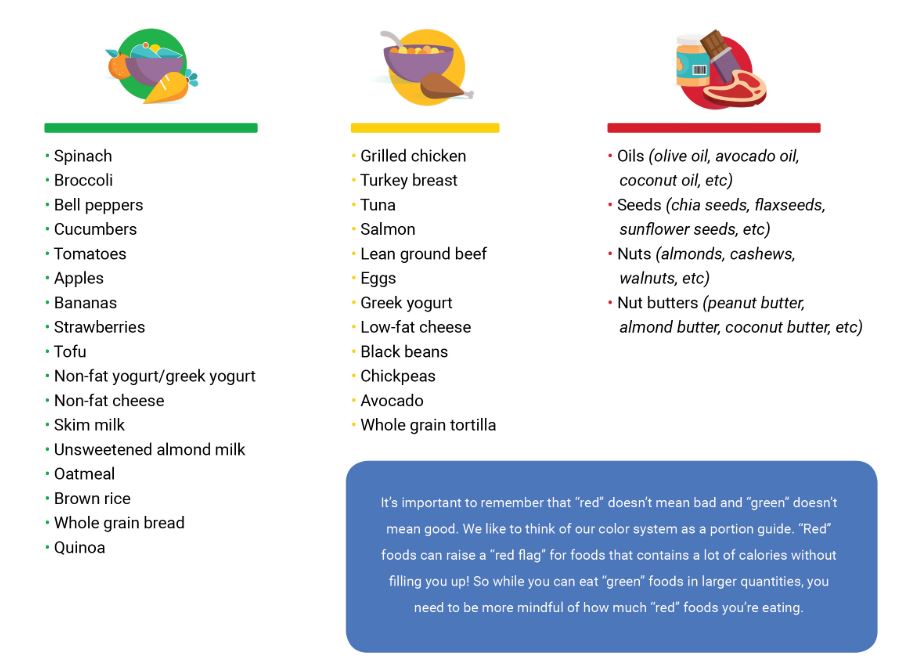 In this color system, Greens are mostly promoted because they contain the lowest calorie while offering nutrition-dense content. On the other hand, Red must be avoided to be eaten in large portions. It is because it has the highest calorie to compare with a portion. The color system is maintained on the five-color that away from controlling calories, to some point, helps intake of various nutrients; Different colors have different minerals and vitamins, which are common in the same colored food.
It is not free
The app must be purchased to create a personal journey for the person under their diet. It can be accessed via app or their website. Monthly subscription costs $59, while the annual subscription is just $199, which is quite reasonable. There is a questionnaire presented to the person after subscription. This survey determines eating habits and has a general overview of their diet and workout habits.  The survey results added with the daily food intake helps the app to create an algorithm. This algorithm shows many details that are helpful to diet portions and tips that are given by the app.
The diet coaches also could access the result of the personalized algorithm. When necessary, they use this data to propose new milestones for dieting.
It all depends on consistency
This app is effective if it is followed through. The studies have shown consistency is the number one reason the subscribers have successfully lost their excess weight. It must be followed regularly in the long term without breaking the rules. If there is consistency, it helps decrease weight quickly.
Who benefits the most
Researchers conducted in 2016 and 2017 showed that over-weight individuals and people with diabetes caused by obesity had the most desirable result. They could manage the excess weight and insulin function in their blood.
The people with regular weight also maintained their healthy weight without being affected by problems such as a holiday season weight gain.
Is there any risk?
Dieting helps to become healthier and gain a better life.
The only drawback when it comes to the Noom diet is the limitation of the app to record nutrition. It has mainly focused on recording calories and not the body requirements of minerals, vitamins, protein and fat proportions.
People with a complicated medical history should always consult their doctor before changing their diet to avoid interfering with medications.
According to the people's experience and research Noom app is considered highly effective as a weight loss program. It is always important to check with your personal physician before you take any steps towards altering your lifestyle. To reduce weight, you may also require supplements in order to avoid taverns and lack of vital nutrition which again your physician can help you achieve.