As an Amazon Associate I earn from qualifying purchases.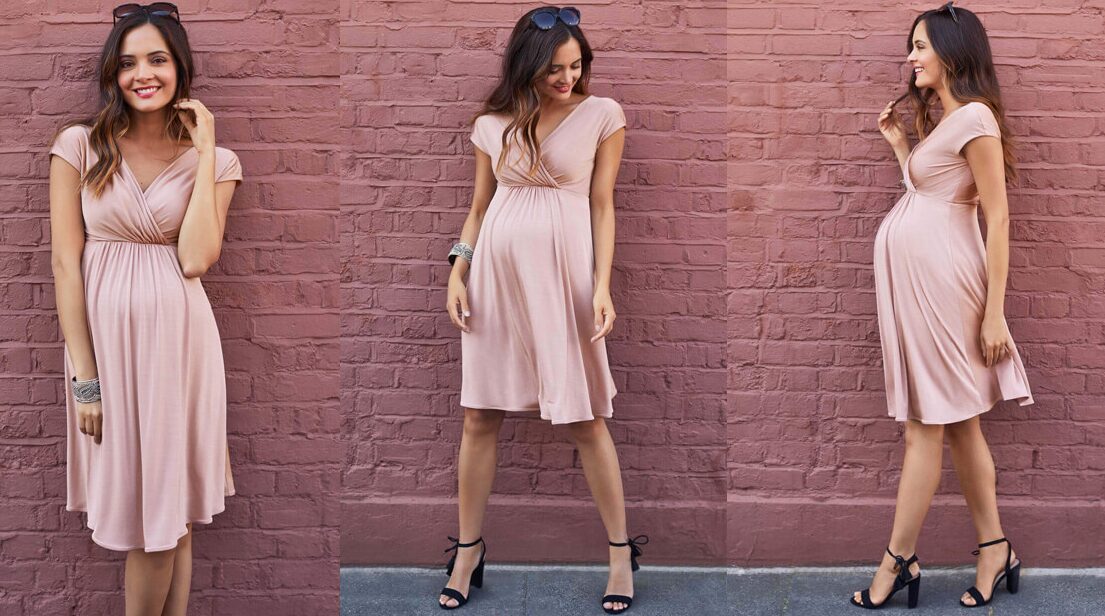 Pregnancy is always an exceedingly special time in your life, so naturally, you will want to document it, the baby bump, and all the rest. The best time to schedule a maternity photoshoot is sometime between 28 and 32 weeks, which is the sweet spot before you'll get too uncomfortable for a portrait session. After you have decided when you're going to be posing for the pictures, it's time to choose the dress you'll be posing in. Our advice is to pick a maternity outfit for a photoshoot that will accentuate your belly bump because it is exactly what you're celebrating. If you can't make up your mind then just keep scrolling for a selection of our favorite maternity dresses for a photo shoot.
Once you are browsing through the list of maternity dresses for a portrait session, pay most attention to style and fit. Choose clingier fabrics and figure-fitting silhouettes to really emphasize your current shape. Ruches in strategic places and belly-area embellishments will help to bring attention to the baby bump. You can also pick a sheer or even an open-front gown. Long and elegant maternity gowns will work great for any photography, for example, maxis decked out in tulle and lace. But what is most important is that the best maternity dresses for a portrait session, whether glamorous or understated, should make you feel like the beautiful future mama that you are.
You can start your search with our list of bump-friendly maternity portrait session dresses. If you don't want to buy something you'll only wear once, you consider borrowing a dress from a rental shop.
What you should look for when choosing a maternity photoshoot dress?
The first thing you should notice when finding the perfect maternity dress for your portrait session is the color and pattern. Create a list of your favorite photos and ask yourself a few questions: do you prefer a pattern or a solid color? Patterns are pretty, but can also be too distracting if they are bold. Using solid colors will make it an easier task to find a matching outfit for your partner.
Think about how well the color or pattern of your photoshoot dress will correspond with your surroundings during the shoot. Try to avoid wearing a green dress while being surrounded by trees and grass. You can try to find pictures with similarly colored backgrounds and see what kind of colors the couples in those pictures are wearing. Or simply ask your photographer, as they usually know the area and time of day and can give you a suggestion.
Another important subject is the fit of the dress. This part depends completely on your body type but typically you should go with something at least slightly form-fitting. Since you are taking the photos in order to celebrate the bump make sure to emphasize it.
There are also plenty of less important things you'll need to think about in a maternity dress for a portrait session such as length, neckline, and fabric. Think about what will look best taking into account your body type and, of course, your bump.
After you have decided what type of dress you want for your portrait session you're ready to consider the options in the list below.
The dresses on the list will vary in length, color, fabric, and pattern.
10 best Maternity dresses for photoshoot
Show Me Your Mumu Maternity Rita Midi Dress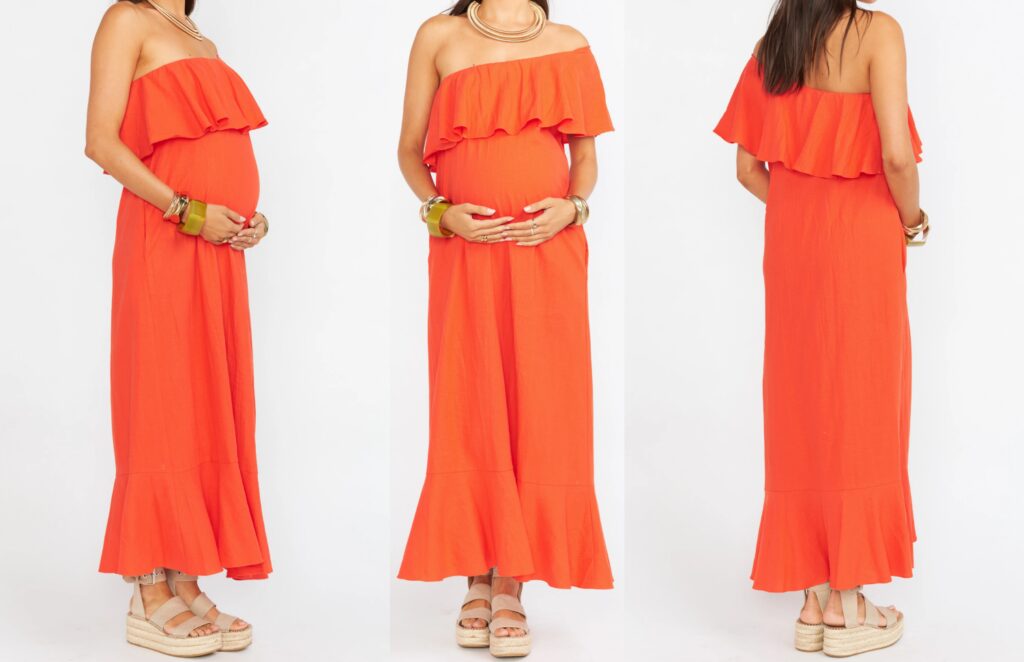 If you like playful maternity shoot dresses take a look at this one-shouldered pick. You can get it in fiery tangerine color or an Instagram-friendly tropical print. It also comes with a detachable belt for extra bump framing. 
Lace Maternity Photoshoot Gown from J & L Designs Boutique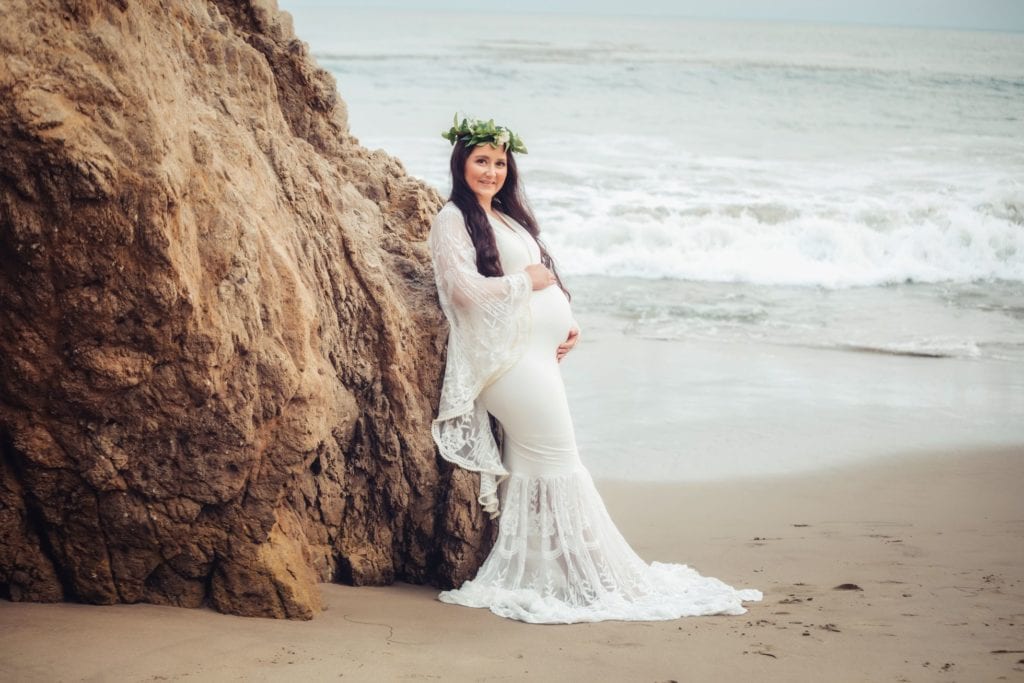 It's not surprising that this lace maternity dress for photoshoots is the bestseller at Etsy, because this pregnancy gown is absolutely ethereal. Just take into account that the top comes to sheer, but you can be paired with some more coverage.
Maternity V Back Midi Dress by ASOS DESIGN and Pleated Asymmetric Skirt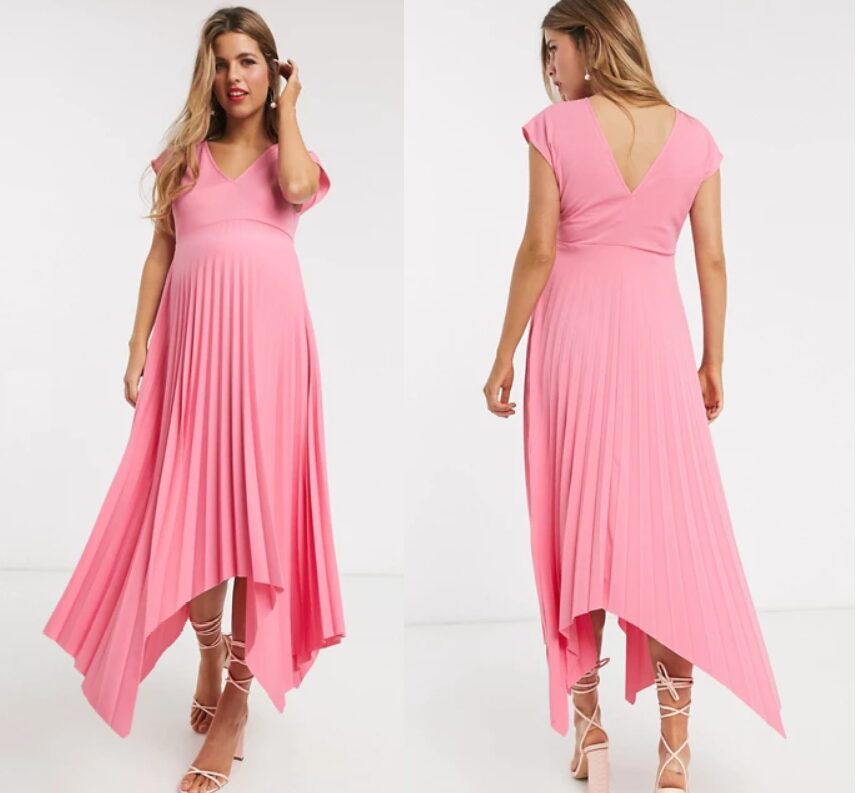 This pleated dress designed to flow beautifully in a light wind, which is the perfect natural environment for a dreamy maternity shoot. 
Lace Mesh Overlay Plus Maxi Dress by PinkBlush Maternity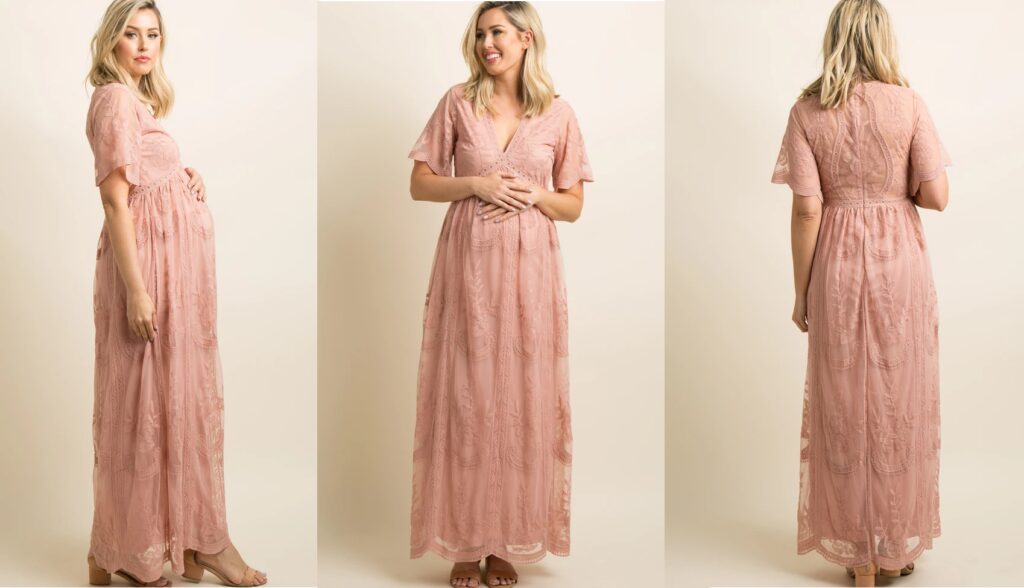 PinkBlush Maternity has lots of pregnancy gowns to offer, including some plus-size dresses. White maternity dresses for photo sessions are always popular, but that's not the only color this dress comes in. You can choose from beautiful emerald green, which is ideal for a woodland portrait session, baby blue, rosy pink, and some other colors too! 
Off the Shoulder Detail Midi Dress by Boohoo Maternity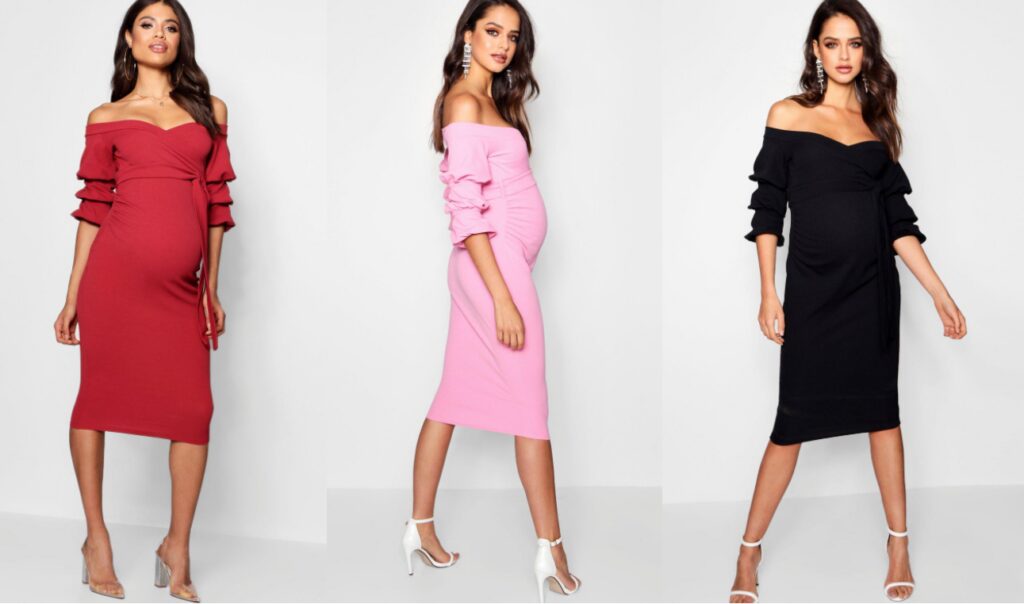 When indecisive, just put a bow on it. This glamorous mini maternity dress is going to work well for a photoshoot with its playful off-the-shoulder sleeves and tied waist. 
Short-Sleeve Dress by Mother Bee Maternity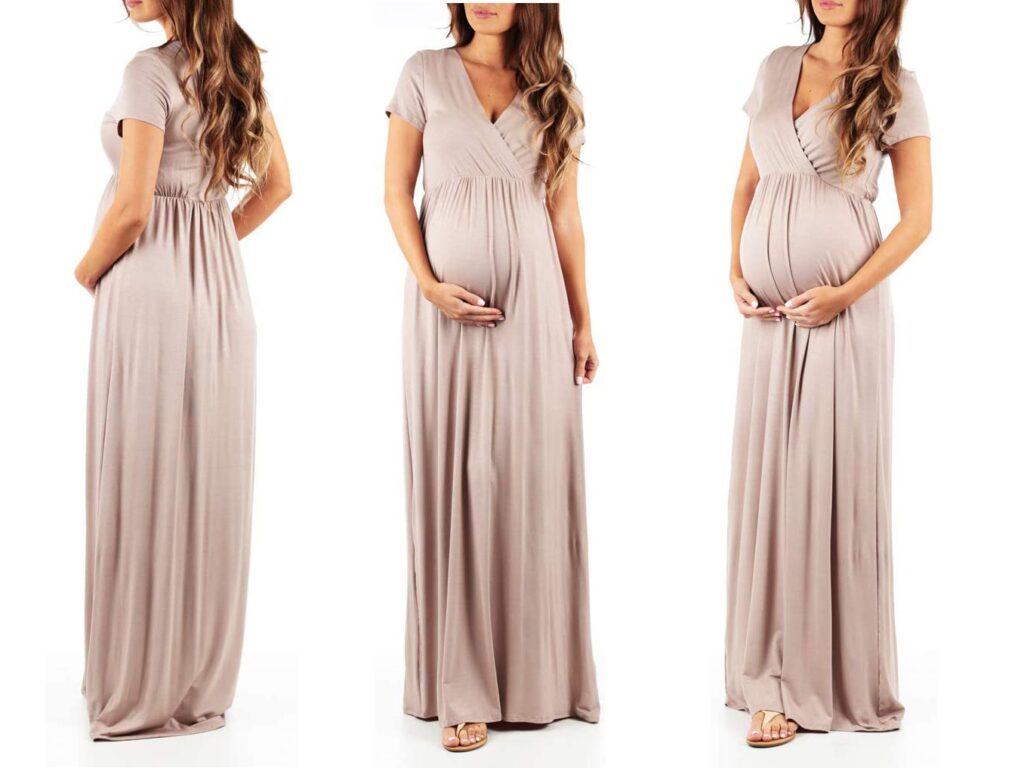 Whether you're looking for solid or patterned maternity dresses for your photo session, this classic style will fit you great. This short-sleeved gown comes in a wide range of colors and prints and is made in the US. 
Rainbow Maternity Dress for Photo Shoot by Dreams Dresses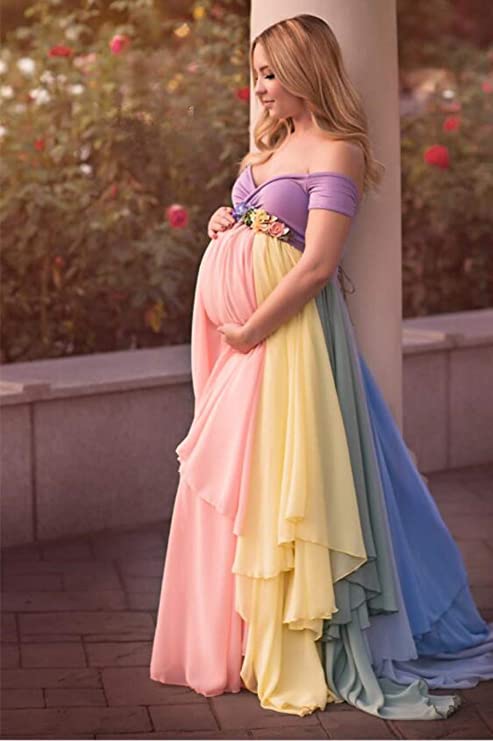 You can pay a tribute to your future baby with a beautifully symbolic dress. This ruffled gown is definitely statement-making. 
White Open Plus Maternity Gown by PinkBlush Maternity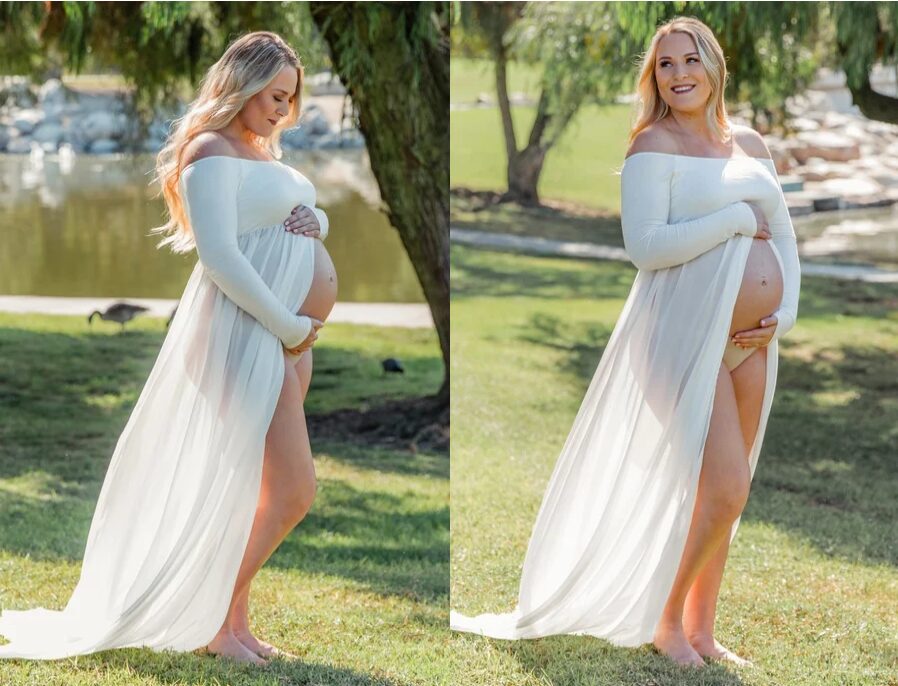 If you are searching for an open-belly maternity gown you can check PinkBlush, which sells a few different styles, including the plus-size white pregnancy dress. Other options can provide a similar silhouette in a neutral or colorful lace. 
Francesca Maternity Gown by Tiffany Rose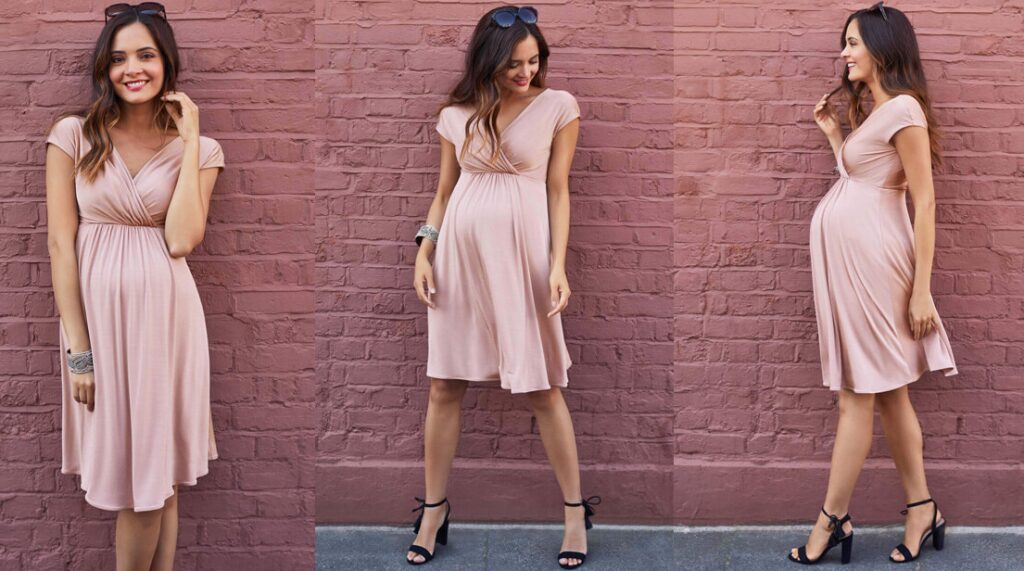 Empire waist dresses are perfect for a baby bump since they can sit comfortably above your belly. You can wear this shimmering maternity gown for any formal occasion and not just your photoshoot since it's versatile enough. 
Velvet Maternity Photo Prop Dress by Silk Fairies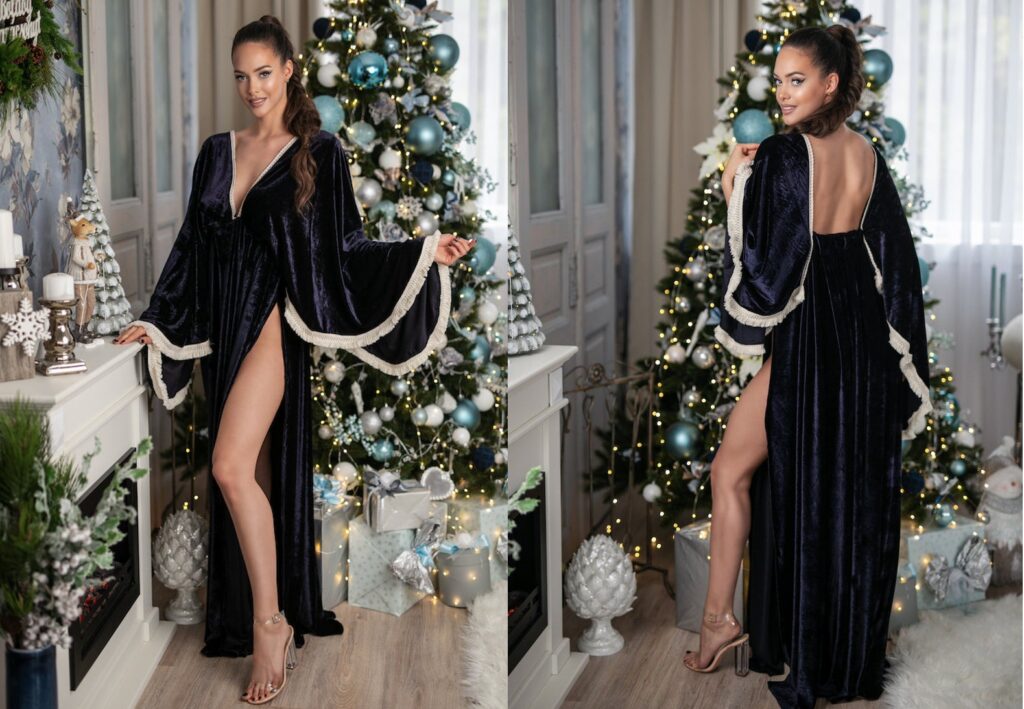 If you are searching for a creative way to emphasize your belly you should look at this maternity photo dress with plunging necklines. This sophisticated velvet dress is perfect for a fall or winter photography session.