The kimono is a type of traditional Japanese clothing. A style of clothing that originated in the 14th century, wearing a kimono is an art and culture for the Japanese people.
If the kimono was worn daily in the past, nowadays, we rarely see Japanese people wearing it on a daily basis. The reasons being numerous, first of all, because the kimono constitutes clothing a little too formal to be worn every day. Then, there is the fact that an authentic kimono is very expensive, it was inaccessible for the middle classes to get such clothing.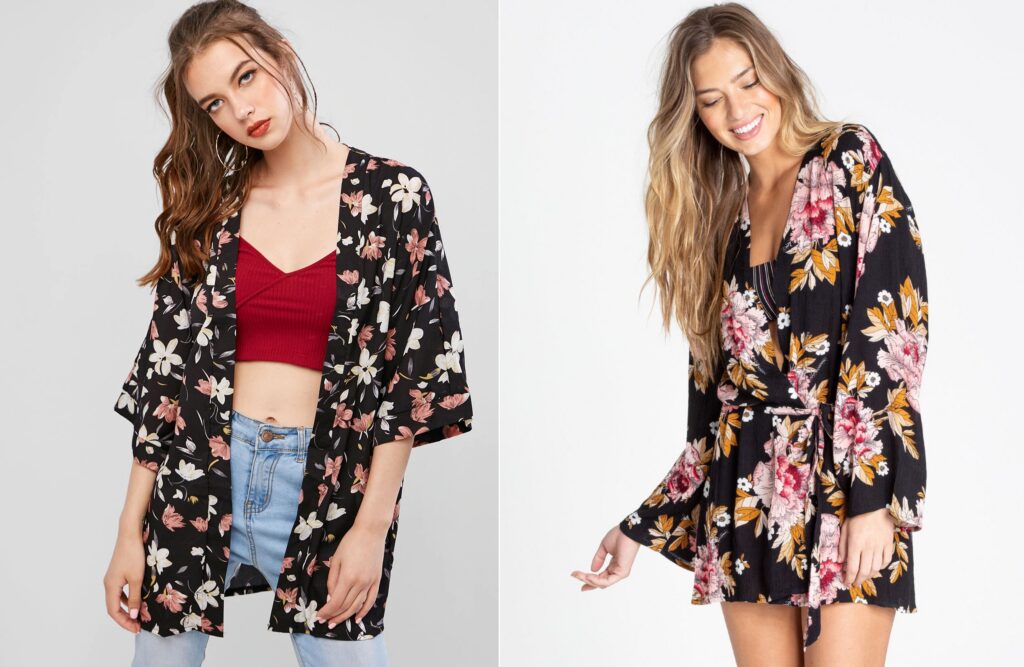 Moreover, to enhance ancestral traditions, it is possible to adapt kimonos to all occasions, whether for the office, weddings, parties, or family outings. There are currently many types and models of kimono available at affordable and easily accessible prices. From classic to modern, you can find the kimono you need in the stores that offer a multitude of choices in terms of traditional Japanese clothing, whether it is kimono jackets, traditional kimonos, bathrobe kimonos, or sexy kimonos.
WEAR A KIMONO FOR EVERY DAY
The kimono is traditionally made with wide and comfortable wear. Normally, the kimono is suitable for all silhouettes, its ample design fits well with any type of morphology.
To wear a kimono on a daily basis, it is possible to put it over a standard and casual outfit. Thus, the kimono can be used only as an exotic and different accessory to complete and perfect your look.
There are also haori style kimono jackets, which are perfect to wear at the office. These are simpler and less formal categories of kimono that women can wear with a dress or a light outfit. Currently, the haori is starting to become more and more trendy and popular in the western fashion world. You can find kimono jackets, made with varied and colorful patterns. In addition, it is possible to choose a shorter or longer kimono jacket, with a straight or flared cut, as you wish. To wear a kimono jacket or a haori correctly, it should not be tied or tied.
The current fashion in Japan and its origin
An ideal garment for parties and large ceremonies, the kimono also has a well-deserved place during important festivities. A chic and elegant garment, you can opt for a traditional style of kimono, at once original, refined and glamorous. The authentic Japanese kimono is made with very fine silk and has a long and colorful design, decorated with wide sleeves. It is worn with the traditional belt called obi, which allows you to perfectly draw your curve and hide all the imperfections of your morphology.
Identity and freedom are important values, and eccentricity in a dress is a way to emancipate and make oneself unique. However, because Japan's culture and history are wonderful and important, wearing traditional Kimonos is still commonplace. Thus, it is not uncommon to meet a Japanese woman with a Lolita look with blue hair crossing another Japanese woman wearing a traditional Kimono and wooden Geta sandals!
And the same person can change from the traditional style to the "eccentric" style according to circumstances or desires, Japanese people being open-minded enough not to get locked into one look.
Between these two extremes (eccentric look and traditional look), we find the "International" look (Jeans / Sneakers / T-shirts), with sublime T-shirts, which you can find on the site. It is especially the young generation living in trendy neighborhoods like Shibuya and Harajuku who like to walk around in 'out of the box' mode, dressing according to the influence of their favorite rock band, or their best Manga series.
These outfits that we may consider as eccentric, called in Japanese 'kawaii' are indeed the claim of a great need for freedom of expression. This movement appeared in the 1990s. The modern Geishas Lolitas, Gothic looks are among the most easily identifiable. In addition to clothing, hair, and makeup take an important part and Japanese women do not hesitate to spend time and money on it. This is not insignificant. The Geisha of the last century used to spend hours on make-up.
If Japanese fashion can surf between the traditional and the avant-garde, it is undoubtedly thanks to the rigor and seriousness of the creators and designers, who always bet on quality and precision. We invite you to visit the designer stores of Harajuku, a source of inspiration for many international designers.